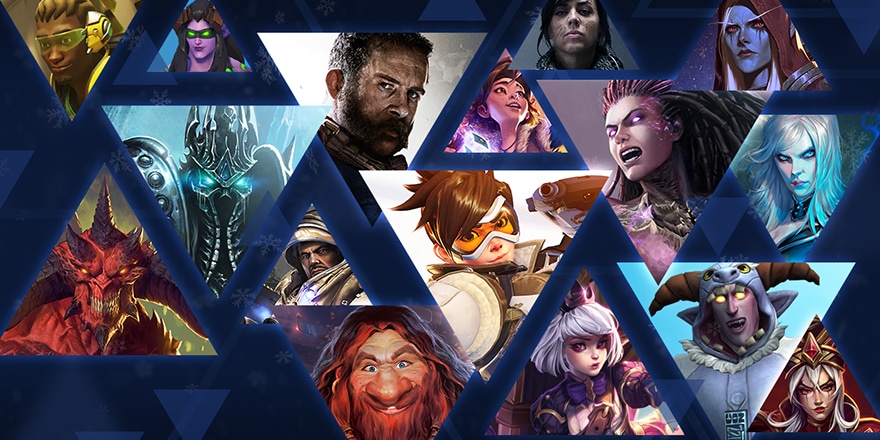 Enjoy Your Holiday With Blizzard Holiday Sale
Greetings!
Our Holiday Sale Is On Now! Find the perfect gift on Battle.net through January 7. It's the most wonderful sale of the year! The Battle.net Holiday Sale is here, where you can save on digital games, upgrades, bundles, in-game items, and more through January 7.
World of Warcraft®
Celebrate Winter Veil with these divine deals!
The Cat Pack: A limited-time bundle of felines, three mounts and four pets, at a discount!
Battle for Azeroth™ Standard Edition: 50% off
Battle for Azeroth Digital Deluxe Items: 35% off
50% off select mounts, pets, and toys
Want to introduce your friends and family to World of Warcraft? As an extra bonus, new players can save 50% on the first month of a new World of Warcraft subscription through January 7, which includes access to both World of Warcraft and World of Warcraft Classic.*
Overwatch™
Give the gift of team-based fun with these heroic holiday savings:
Overwatch Standard Edition: 25% off
Overwatch Legendary Edition: 50% off
Overwatch Legendary Upgrade: 75% off
StarCraft®
What better way to treat your family and friends than with one of the greatest real-time strategy games of all time?
StarCraft II Campaign Collection: 25% off
StarCraft II Campaign Collection Deluxe: 33% off
Nova Complete Mission Bundle: 33% off
StarCraft: Remastered: 33% off
StarCraft: Remastered Cartooned Upgrade: 20% off
StarCraft: Remastered Cartooned Bundle: 30% off
Hearthstone®
Help to build out the decks of your loved ones (or yourself!) with Winter Veil Wonder Bundle, which will add the new Dame Hazelbark Druid Hero and Card Back to your collection along with 30 card packs, including six packs each from five different expansions!
BlizzCon 2019 Virtual Ticket
If you missed out on the panels, Q&As and entertainment from BlizzCon this year, never fear! For a limited time, the BlizzCon 2019 Virtual Ticket will be on sale for a special promotional price, granting access to all Virtual Ticket content, the in-game digital extras, and access to the Warcraft III: Reforged beta. Head to the Virtual Ticket page to purchase!
*Subscription to World of Warcraft does not include the most recent playable expansion, which is sold separately.